Hello everyone! You voted, and Varial_360 is your December member of the month!
What's your real name?
David Lee Latford
Where do you reside as of now?
Temperance Michigan
How is it there?
Big snowstorm, have about 6 inches now, 7-13 to come tonight.
when did you start skating?
13 months ago.
Still sticking with it?
Oh yeah, still having fun.
Looking for sponsors eventually?
Nah, not only am i not sponsor worthy, i just like to have fun.
Who's your favorite skater(s)?
Chris Cole, P-Rod, Tosh Townsend.
Favorite companies?
Plan B, Baker, Spitfire, Darkstar
How do you feel about the skateboarding industry becoming more mainstream (MTV, commercials, etc.)?
I think it has its advantages and disadvantages. I think its good that it gets more kids into skating, but i think it also makes kids more influential seeing it on tv..for example, life of ryan..so much drama and rob and big, where big hits security guards..i think kids will see that and think its okay to do those things, impacting peoples opinions on skateboarders. MTV is lame anyways.
So you have mixed feelings? If MTV offered you a show about skateboarding, what would you do in it, or would you even take the offer?
Remember, money talks. So i think id take the offer, but i would include alot more skating in my show. Like in Life of Ryan, you get maybe 10-15 minutes of skating, the rest drama. Id focus on skating, maybe include a trick tip at the end, or even filming tips.
Right, so how about you answer the question everyone wants to know, how do you make penis cookies!?
haha, didnt see this cumming. Sorry, bad pun.
It started as i was going to help mom make cookies, so i thought id make a joke and make my brother some, since his room-mate we always joke that hes gay, so i said let me make some penis cookies. So, i rolled the dough, knived out the design, baked them, and used food coloring in the frosting, and chocolate spinkles for added fun. Who knew theyd make me score with a lady?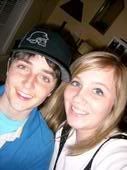 Speaking of girls, how are you doing with them? Without penis cookies that is.
To be honest, i havent really wanted a girl the past few months. I got a job working with a marketing business here in town. Since thats what i want to do when im older, ive dedicated time to that. Girls can wait, future is more important. But i do have a few dates scheduled.
Good balance! So what else do you do outside of skateboard-city?
Hockey. Lots of hockey. Video games, snowboard, snowskate, friends, and gals. Basically everything a teenager does.
Cool, is there anything that sets you apart from the rest of our generation?
I wouldnt say sets apart, but i feel some kids in this generation glide by with the bare minimum in schooling. I think for the future and get the best education i can get. But, it doesnt really set me apart, since alot of kids take school seriously.
So, you get good grades?
Yeah, i wouldnt say im a nerd, but nothing below a C.
What colleges are you looking at?
Ive looked at about 4. I took a few college visits, since we get 2 junior and senior year. I went to schools that had good marketing/business courses, like Eastern Michigan, University Of Toledo, University Of Cinncinati, and Bomont school of business.
Back to the present, who would you say your favorite members are?
Members i talk to on a daily basis are my favs. Blindninja, NNP, Galmeister, Burrut, Vivica, Pinkeh, Ruckus.
Are you a spontaneous person or do you have an everyday schedule? If so, tell us!
Little of both, if someone suggests something that i think would be cool, we go do it right then. But everyday, i usually eat at the same time, do homework at a certain time. I sleep whenever im tired, so a bit of both
Do you do anything "crazy"?
Not so much crazy as it is stupid. Getting in trouble, going to target and starting full out brawls with the "hulk hands", going to meijers drunk taping leaves on myself pretending im a plant, saying "photosynthesis". But i dont really do crazy things. If you told me to hurl myself down el toro, id prolly say no
On a different note, what kind of music do you listen to?
Mostly metal. Any kind of metal. Although, techno, rock, punk rock, few rap songs. Mostly anything sounding cool, or puts me in a good mood. Method man, eazy-e, few rap artists i listen to.
If you were to have a part in a skate video, what would your song be?
Placebo- Every me and every you or Ropers- Hello Lamewads
Give me your best acceptance speech!
Fellow members of SB-C,
I am deeply honored to be this months FMOTM. Despite all odds, going up against Twinskate and other good members, you picked me. Without you members who voted for me, id be nothing. And to those who voted for me, i thank thee, and you will forever be remembered in my mind. Like that?..haha, short sweet, and really corny.