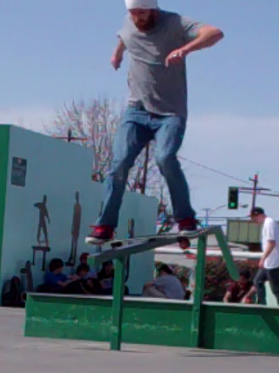 Let's start with the basics; What's your name, age, and where you live.
My name is Aaron, I'm 32 and right now I live in Moses Lake, WA although I've spent the greater part of my life in San Diego
How does living in Washington compare to living in Cali to you?
Well the skate scene here is pretty tiny. In my town anyways. So that's a huge difference because San Diego is chock full of skaters. But we moved up here mainly for cost of living / family reasons. My wife is about to give birth to our 1st daughter in a month or so, and we don't have any family in San Diego at all. Plus we were staying in a cramped 3 bedroom apartment, where as here I got a pretty big house for like 2/3 the cost And I guess the winters are actually cold here, where as San Diego the winters you don't really notice haha.
Sounds like it worked out for you guys comfort wise. So how long have you been skating, and what got you into it?
Hmm I guess altogether like 5 years. I skated 3 years straight when I was in high school, then more or less took 10 years off, then I've been going pretty solid for the last 2 years. I guess I was always into it from when I was a really little kid Ninja Turtles skated and older kids at my school were all bad ass, skating, dressing awesome, and smoking cigarettes. I didn't want to smoke but the overall idea of skating seemed pretty cool so I asked for a board for Christmas, succeeded, and was pretty much into it ever since then.
Nice, using the Ninja Turtles as an inspiration to skate is a new one! What about skating now keeps you into it?
Ahh man its like the only thing I really do for myself anymore since I got all this family. So its sort of my little escape. Plus it keeps me in shape and I still like to push myself, I still get better, so yeah I dunno, its just fun haha.
That's cool, gotta have something for yourself. Being married with kids and having a job, how do you juggle all that and skating? It must be a challenge.
Yeah it was for a long time. The married with kids part isn't so tough, but working a 9-5 fucking sucks, and I pretty much had to do that for the last 8 years or so to pay bills, feed my family etc.
Now I have my own business and get to work from home, so finding time to skate is a lot easier.
Fuck having a boss haha.
Ahh that sounds nice, I never liked my bosses much either haha. So speaking of work, what is it exactly that you do for a living? What puts the bread on your table?
The last boss I had was such a massive dickhead, he sort of helped motivate me to take the leap. Still thankful to this day for him being such a prick and making me hate my job that much that I was willing to bounce and do my own thing. I do web marketing. I'm basically the guy behind some of the ads you might see on FB, Google, etc. Also send quite a few emails everyday.
Oh so you're that asshole? Just kidding, that seems like an interesting line of work. You liking it?
Haha no really, I am that asshole. But yeah it's pretty fun, I mean I get to be creative in the ways I market to people. So the job itself isn't 100% dull. Plus trends are always changing so it keeps me on my toes. But yeah I like it a lot. Just the freedom to work when I want and how hard I want is pretty rad. Being able to skate is key.
Ha that does sound quite nice man. So keep with the Life of Gunz theme, how long have you been married, how many kids do you have, and what's the main things you like and dislike about family life?
I've been married for 8 years, have 2 boys, and a daughter on the way. Family likes: keeps me out of trouble, people that love me no matter what, people to motivate me to be a good Gunz and not live a complete life of grime. Doing family shit is pretty sick too, its rad watching the kids do stuff for the 1st time and seeing them enjoy it like I did when I was little. Dislikes: I can't live a complete life of grime and I'm locked in for evarrr. But overall I like my life, family-wise. Wouldn't change it for anything.
Cool, sounds like Gunz is a rad dad haha. Back to skating, what style of skating do you prefer, and why?
Eh just a sec I gotta change a shitty diaper. I guess that one goes under dislikes.
Haha dad mode activated.
Damn that one was potent. So yeah about skating... personally I kind of mix it up. I'm probably the best at flatground tricks, but I will skate anything. I like skating boxes and rails a lot too. I'll skate tranny but it's embarrassing an probably painful to watch. For like preferred styles to watch, pretty much anyone that hauls ass I can dig. And anyone that hucks shit down stairs as well.
With that said, who are your favorite skaters? You've pretty much covered what you like but you can elaborate if you wish.
There are so many. I guess if I had to just name a few, I'd say the boss, Herman, Wes Kremer, Jaws, Moose, Chris Cole, and Tommy Sandoval. There isn't really a skater I don't like watching. Anyone who handles their business is fun for me to watch.
That's fair I'd say. Gonna go into some top 5's. Skateboarding tricks.
Kickflip, fs flip, bs flip, 3 flip, and fullcab
Actors
Christian Bale, Jason Statham, Will Arnett, Christopher Walken, and Will Ferrell
Haha nice. TV shows.
I don't watch too much TV, but here goes. Sons of Anarchy, Pawn Stars, Operation Repo, South Park and Workaholics.
Last one, skate videos.
Hmm that's a tough one. Baker 3, Stay Gold, Since Day One, Welcome to Hell, and Second Hand Smoke
Good picks! So aside from skating, being a family man, and filling SB-C and the rest of the internet with your work, are there any hobbies that you partake in?
Nah other than skateboarding I don't really do shit haha. I guess I'm kinda boring like that. Just going random places with my family, but I don't really have a hobby. I always plan to get a sick classic car and fix it up in my garage, but haven't gotten started on that one yet
Lover of the classic cars eh? How long have you been into them? What kind of car would you want to get?
I dunno, its kinda weird, I've never owned one, and never really went to car shows or anything. I just think it would be a fun project to work on. I wouldn't say I'm even 'into' them. But yeah either a Lincoln continental with the suicide doors, or some boat ass Cadillac convertible. I just wanna restore it to original and then have like a good sound system so I'm not stuck with am/fm haha.
Hey that would be a fun little project. Any shout outs and last words you'd like to give?
I dunno, all the SB-C homies, STD, Crass, LFF, MartyRules, Popwar Pill, almost_mothrfckr, WT, Made In China, Vlad, Stroh, shit I'm sure I'm forgetting a bunch but yeah those are my SBC peeps. Last words? God I dont know what the hell to say here that's not incredibly lame. Skate fast and FYL.